Cramer® PowerFlo 50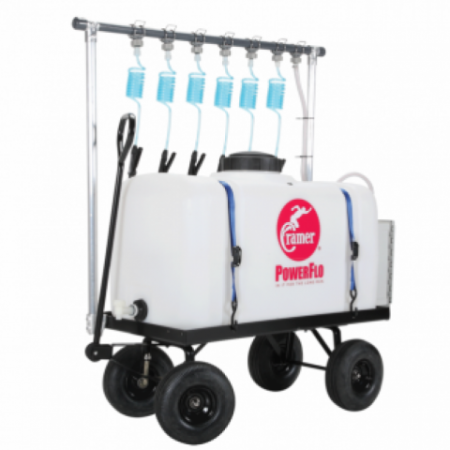 Providing safe, portable on the field hydration. The PowerFlo 50 does that with a 50 gallon capacity tank running off a rechargeable battery powered pump. Best for large teams that need a lot of water in one central location.
Features include:
A semi-clear tank with a 50 gallon water capacity with rounded corners for easier cleaning and maintenance. High quality fittings for longevity and dependability.
Every component of the PowerFlo 50 that contacts the drinking water is made of an FDA approved material or is a water potable component. This commitment to safety extends to the components within the drinking nozzles which are custom manufactured out of an FDA approved material and built using internal components that meet the same standard.
New lighter weight, more durable cabinets made from the same materials used in football helmets. New mounting tabs add a replaceable "break away" function so the cabinet itself will be less likely to be damaged if dropped or hit.
Six drinking stations feature self retracting UVA/UVB resistant blue coiled hoses that are manufactured from an FDA approved material. Mounted on an External manifold provides easy access to hose attachments to facilitate easier cleaning and winterizing 
New and improved rugged metal 4 wheel cart is custom built for our hydration units with extra reinforcement straps to insure performance and then powder coated to provide increased durability
Tubeless tires which have also been fitted with an inner tube for unmatched dependability
New bushing system replace the old bearing style wheel. Provides greater strength durability and corrosion resistance
Product: 028000          
Call for quote and availability. 905-269-8206
We can source and supply replacement parts for the Cramer Hydration units